Shopping Cart
Your Cart is Empty
Thank you for your business!
You should be receiving an order confirmation from Paypal shortly.
Exit Shopping Cart
PO Box 0479
Reynoldsburg, OH 43068
HOURS OF OPERATION
Monday - Friday 9 a.m. to 5 p.m.
Email checked daily
Office:
614-604-8240
Fax:
614-604-8268
Emergency/Maintenance Contact
614-364-9500
24 hour response time
Why choose ​B&B Property Investment Group LLC?
Simple....We do not focus on the problem,
We focus on the Solution!
Click Here to Add a Title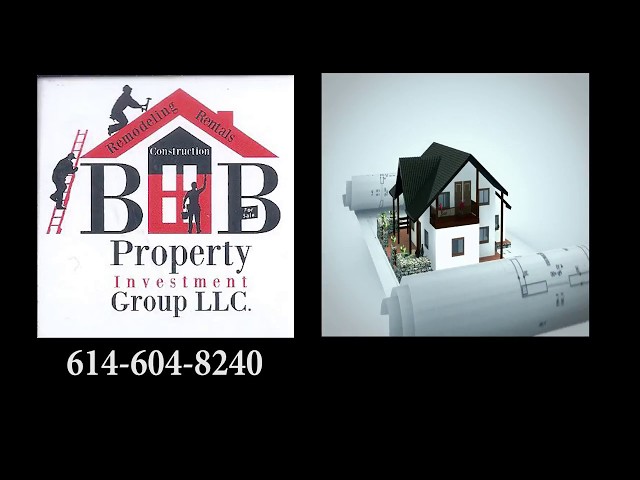 Take a Look at Our Gallery
We consult with clients to successfully remodel their homes. Renovations often involve installation of kitchen cabinets or windows, crafting of drywall or wood structures, and repairs of roofs, flooring, and remodeling bathrooms, installing stairs, hand rails, and remodeling basements.

Repairs / Installs All Types of Wood Rot
Repairs / Installs Glass / Sash
Repairs Seals Failures
Repairs / Installs Window Hardware
Installs Weather-Stripping
Caulking
Installs Replacement Windows / Doors
Handicap Accessible Modifications
Our first priority is to make affordable and safe modifications that will help your family live safely in the home. If you need to make your home ADA compliant to make it more accessible for a family member who is elderly, disabled or has special needs, we install grab bars, hand railings, walk in showers/tubs, and wheelchair ramps.

Install and maintain wiring, control, and lighting systems. Inspect electrical components, such as transformers and circuit breakers. Identify electrical problems with a variety of testing devices. Install hardwired smoke detector systems

Inspect problem roofs to determine the best way to repair them, measure roof to calculate the quantities of materials needed, replace damaged or rotting trusses and rafters or plywood.

Install shingles, asphalt, metal, or other materials to make the roof watertight, align roofing materials with edges of the roof, cut roofing materials to fit around walls or vents.

Cover exposed nail or screw heads with roofing cement or caulk to prevent leakage

We install different types of flooring and floor covering in residential homes. We work with different product types including carpeting, vinyl, laminate, linoleum, and tile.

0

/